While this post is sponsored by MYOB PayDirect, the product review is honest. x
I've been using my new MYOB PayDirect Card Reader to take card payments in person and it has me thinking about all the little elements that facilitate a smooth flowing session.
Preparation – Photographer
Charged batteries.
Empty compact flash cards.
Aeroguard and sunblock.
Clean props (if you use them).
Water bottle (hard to communicate happily if you completely parched).
Charged mobile phone (in case anyone is running late).
Knowledge of the location (opening hours, permission to shoot, easy access for a pram, appropriate footwear, etc.).
Having all of the above under control gets everything off to a good start.
Preparation – Clients (aka Session Super Stars)
Give your clients clear directions and an exact meeting place – even a map if you know the spot to be tricky to find.
Drinks and snacks.
Change of clothes if shooting near water.
Nappy bag, favourite comforters.
Timing
Sessions always flow more smoothly if the kids are well rested so I choose the session time based on sleep routines. I rarely photograph young children during the golden hour – as the end of the day isn't usually a little one's happiest time.
During the Session
My biggest tip here is, move on quickly if something isn't working rather than persist with the uncomfortable moment. Keep the session flowing and moving. I try to get the best of the kids in the first 40 minutes – their interest starts to flag after that.
Ending the Session
To wrap up my smooth flowing session, we discuss what happens next, how long their gallery will take, filling out a portrait release and payment.  For a one-man-band business owner working from my home office, I feel much more profesh being able to offer in-person credit card payment.
I take cheque and cash as well, although it just makes sense to have something portable like the PayDirect card reader that allows me to take card payments on the go. NB. Over 80% of 2012-2013 transactions were made with card! (RBA Statistics, 2014)
So here is the MYOB PayDirect Card Reader I have recently been reviewing next to my phone, showing the swipe and chip reader slots.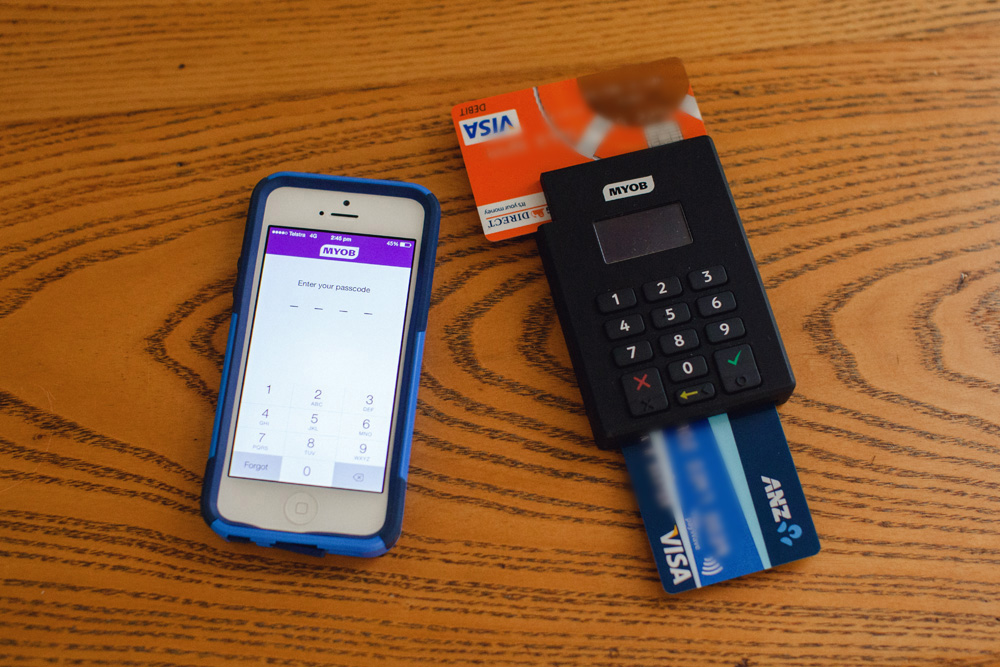 How to Use It
It's super easy.
Securely access your details through the MYOB PayDirect App on your smart phone with your pin number.
Place phone near the Card Reader. This links the two.
Follow the easy steps through the PayDirect App to take a payment.
Card Reader prompts you to Enter Card.
Insert your client's card and then the client can enter their pin number into the card reader.
Wait for Approval. Hand back card.
Money deposited to your bank account.
It's all Too Easy! (Many moons ago my dad had a friend who was called 'Too Easy' after years of giving that response to any request. Such a happy nickname!)
Anyway, I am loving my little card reader. It is perfect for me and I love that it takes credit and debit card!!
Some important info…
Purchasing the Card Reader and setting up your account is very quick and very simple.
The MYOB PayDirect Card Reader is $199 (ex GST) to purchase.
There are three payment plans – details can be found here.
If you want to find out more about having a photo session of your own, please email me @ angiebaxter.com.au or if you would like more info on getting your own MYOB PayDirect Card Reader, simply add your details here!