It was my birthday yesterday — the big 39.  Yikes!  Thankfully frequent bouts of immaturity are keeping me youthful.
So, being my birthday I thought I would give a little pressie to all my blog friends.
Creative Photo Wall Layouts
This is a three page pdf document that you can download for FREE!
There are quite a few photo wall idea sheets floating around, however I wanted to create my own document that:
a. incorporated the common print sizes I use (i.e. 8×12″ instead of 8×10″),
b. incorporated popular collage sizes,
c. gave clients an idea of how much wall space would be required for each layout, and
d. put together fun layouts of my own
I have recently started using these with clients and they have been so helpful for them, that I thought you might like to use them too.
Who is This For
1. Photographers who want some great ideas for yourself and your clients
2. Anyone who is putting together a photo wall and needs some inspiration
3. Anyone who is not putting together a photo wall but just loves looking at this sort of thing
Sample page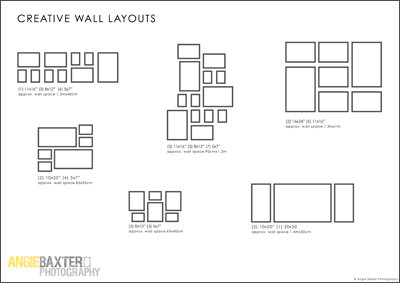 To receive the Free Download, all I ask is that you share your new find on Facebook and the Download Link will become active immediately.
Some ideas on how to share:
"Thanks Angie for the Free Download: Creative Photo Wall Layouts"
"I'm downloading Creative Photo Wall Layouts for free – you can too!"
"Follow this link for some new Photo Wall ideas"
"Angie, you don't look a day over 21″
Thank you friends!  Enjoy x